VisualEyes® Simulator Glasses, set of 7
THESE GLASSES ARE SOON TO BE DISCONTINUED!
Supplies are limited and only available while supplies last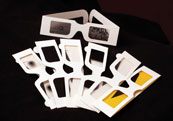 (Sold only as a set. See images of specific glasses at links below.)

• See your materials and spaces through the eyes of someone experiencing aging and other vision conditions.
• Encourage empathy for the vision struggles of the aging and compromised eye.

These cardboard- and plastic-framed* eyeglasses with plastic lenses simulate the vision conditions of:
[click each listed item to see images of specific glasses]
• Combined Loss (CMV Retinitis/diabetic eye disease/ immuno-suppressed vision loss) – EE77-3
Suggests the vision loss that occurs with the condition of diabetic retinitis (an eye complication often resulting from diabetes). It also suggests the vision loss that occurs when the cytomegalo virus (CMV), which is present in most people, causes damage to the retina of the eye in an immunosuppressed person (such as in someone who has HIV or has undergone chemotherapy). This simulator effectively blocks out sight in a sporadic pattern and to a different degree in each eye.
• Central Field Loss (Macular Degeneration) – EE77-4
Suggests the type of vision loss caused by macular degeneration. When using the Simulator, keep looking at the dark spot (not around it). The Simulator demonstrates how difficult it may be to see faces, details, and color. When the Simulator is worn or held in the same position as eyeglasses, this simulates a 12-degree scotoma (area of lost vision). Holding the Simulator farther away from the eye makes the spot smaller than 12 degrees.
• Peripheral Field Loss (Glaucoma/Retinitis Pigmentosa) – EE77-5
Suggests the type of visual loss caused by retinitis pigmentosa or advanced glaucoma. When the Simulator is worn or held in the same position as eyeglasses, it represents a 12-degree field. Holding this Simulator farther away from your eye, makes the visual field smaller. The simulation demonstrates how difficult it may be to find objects that are outside the narrow field of vision and to get around safely, especially in unfamiliar places.
• Overall Blur (Cataract/Cloudy Media) – EE77-6
Suggests the type of vision impairment caused by cataracts; or other conditions involving the cornea that interfere with the passage of light. It demonstrates the reduction of contrast and increases in the effects of glare. The Simulator reduces normal vision to approximately 20/200.
• Hemifield Loss (Hemianopia/Stroke) – EE77-7
Suggests the type of vision impairment that may result from a stroke or injury to the brain. It is useful in demonstrating how the bilateral loss of half of the visual field affects a person's ability to read and get around.
• Low Contrast (Normal aging vision issues) – EE77-8
Suggests the loss of detail, color, and sharpness that many older people experience in normal age-related vision changes. This simulator effectively diminishes contrast.
• Color Affectation (Cataract and lens aging) – EE77-9
Suggests the way a maturing cataract and macular degeneration may affect functional vision and interfere with daily activities.

*Note: The manufacturer is gradually transitioning the eyeglass frames to an easier-to-clean translucent plastic material but while this transition in manufacturing is occurring, your kit may contain all cardboard frames or a mix of eyeglasses in cardboard and plastic frames. The eyeglass lenses have not changed and are still being made with the high quality plastic material of the original design.

Set of 7 glasses (Item #EE78-1):
$54 USD/per set, plus shipping and handling.
NOTE: These glasses are being discontinued and quantities in stock are very limited.

PayPal - The safer, easier way to pay online! A PayPal® account is NOT required to shop via the PayPal® Shopping Cart.


TO SHOP: Press the Add to Cart button above and you will be routed to a secure PayPay® shopping cart page where you can select the quantity you desire (quantities are based on what we have left in stock). Shipping charges and tax (sales tax applies to MN residents only) are calculated and reviewable prior to your final check-out.

Rush shipping is available at an additional cost. Please contact us for more details on rush shipping options.

Elder Eye/Points Of View also accepts PayPal® Worldwide purchases to many countries and ships internationally to standard locations.

No CODs are accepted. Orders cannot be accepted by phone and international orders may only be made via PayPal Worldwide.

IMPORTANT! Scroll down to Other Purchasing Policies for our return policy.